25 September 2009
A new WWF report celebrates the recent discovery of 163 new species in the Greater Mekong region of South-east Asia – including a bird-eating fanged frog, a leopard-patterned gecko and a bird that would rather walk than fly – but we also warn they could soon face extinction because of climate change.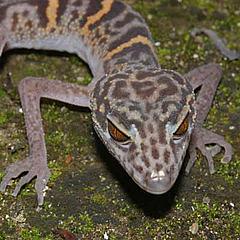 Our report, entitled
Close Encounters
, lists 100 new plants, 28 fish, 18 reptiles, 14 amphibians, 2 mammals and a bird, all identified in the last year by scientists within the jungles and rivers of the Greater Mekong, which spans Cambodia, Laos, Myanmar, Thailand, Vietnam and the south-western Chinese province of Yunnan.
The discoveries include: a bird-eating fanged frog that lies in streams waiting for prey; a bird called the Nonggang babbler, which walks longer distances than it flies, only taking flight when frightened; and the leopard gecko, a reptile with orange eyes, spindly limbs and technicolour skin.
But recent studies show the climate of the Greater Mekong region is changing, and models suggest continued warming, increased variability and more frequent and damaging extreme climate events.
Rising seas and saltwater intrusion will cause major coastal impacts, especially in the Mekong River delta, one of the three most vulnerable deltas on Earth, according to the most recent International Panel on Climate Change report.
WWF's Heather Sohl says: "It's great news that science is uncovering exciting and unusual new species like these, but it's very worrying that no sooner do we find a new species than we have to sound an alarm over its prospects for survival.
"Rare, endangered and endemic species like these will be especially vulnerable to climate change, which has the potential to reduce their already restricted habitats.
"WWF is already working with governments and industries in the six Greater Mekong nations to conserve and sustainably manage 600,000 km2 of trans boundary forest and freshwater habitats in this unique and rapidly changing land. But we also need global action.
"With UN climate talks beginning in Bangkok this week, we're urging world leaders to sign a strong global climate deal to prevent runaway climate change and to help safeguard regions like the Greater Mekong."
Story